1993 SEBRING 12HRS + MIAMI GP
Mike Peters and Justin Bell drove the number 48 Porsche and finished 21st - 7th in Invitational GT class - at the grueling 12 Hours of Sebring.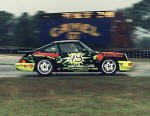 1994 SEBRING 12HRS
Bill Adam and John Paul, Jr. and Victor Gonzalez made a valiant run in the 1994 Sebring race only to have an oil fire bring their race efforts to a early conclusion.
Result - DNF (mechanical - 91laps)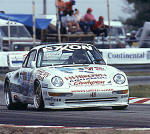 1994 Sebring car 72 front 3/4
1994 DAYTONA 24HRS
Juan Fangio II, Bill Adam and Brian Redman and Mike Peters drive the #72 Porsche Turbo for the second year of IMSA racing for the Champion Team.
The car experienced mechanical difficulties early on, however Champion was making it's presence known to the world of road racing.
Result - DNF (accident - 17laps)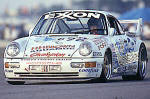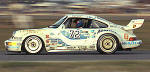 1994 Daytona car 72 profile
1995 SEBRING 12HRS
Car 74 driven by Hans Stuck and Bill Adam finished in second in class.
Car 72 driven by Derek Bell, Neto and John Furgus finished fourth in class.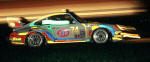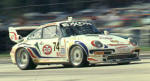 1995 Sebring car 74 3/4 profile
1995 ROAD ATLANTA
Champion Racing continued to grow notoriety as one of Porsche's featured privateer race teams.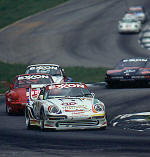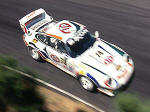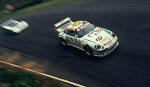 1995 DAYTONA 24HRS
Bill Adam, Han Stuck, and Thierry Boutsen drove the Car 74 entry while Derek Bell, Dorsey Schroeder, and Neto Jahamawitz campaigned Car 72. Both cars where sponsored by STP, H. H. Brown footwear and Goodyear Tires.
Car 72 experienced mechanical difficulties 6 hours into the race and was retired.
Car 74 was doing extremely well before it was hit during the late hours of the night and forced to also retire.
Result - 72 DNF (electrics - 0laps)
74 DNF (accident - 159laps)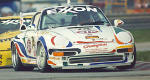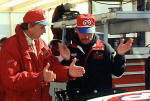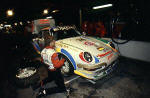 1996 DAYTONA 3HRS
Daytona International Speedway - 6th October, 1996 - 3 Hours.

Hans Stuck and Bill Adam drove the #74 Porsche GT2 Evo, with John Fergus and Ed
Davies sharing the #72 Porsche GT2 team car.

Rain Meister Stuck was forced to start at the back of the field after failing to set a qualifying time due to engine problems. Stuck drove an absolutely brilliant race amid heavy rains courtesy of Tropical Storm Josephine, working his way through the entire field to third OVERALL by the end of the first hour. A black flag to repair inoperative tail lights cost Stuck and Adam 4 laps, and they ultimately finished 11th overall, 3rd in GTS1.

John Fergus and Ed Davies drove the #72 team car to 18th overall, 5th in GTS1.
1996 SEBRING 12HRS
The first big victory for the Champion Racing team history occurs at Sebring.
Hans Stuck and Bill Adam drove Car 74 into victory lane.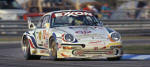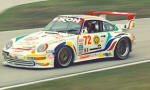 1996 DAYTONA 24HRS
Champion Car 74 was running late into the night in the top 8 overall position when driver Bill Adam was hit by a car coming out of the pits.